The 7 C's of Data Quality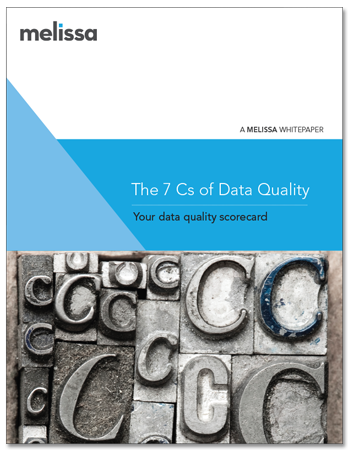 Data quality is really important. Why? Because it helps you
save money while increasing profits: all due to accurate contact data.To
explain data quality, let's look at the 7 C's:
1. Certified Accuracy
2. Confidence
3. Cost-Savings
4.Campaign Intelligence
5. Consolidated
6. Complete
7. Compliant
These are the building blocks of data quality and provide
you with a quick reference to assess your contact data.
Certified Accuracy: Did you know that the
average U.S. company spends $180,000 a year on mail that never reaches the
recipient? How deliverable is your address data?
There is a way for you to know for certain. With a solution, such as CASS Certified, you can validate, correct and
standardize contact address data.
Confidence: We are specifically talking about
E-Confidence with this "C". Identity theft costs an average of $5,000 per
incident resulting in nearly 48 billion dollars a year. Are you confident in
who your customer says they are? Avoid fraud by using a point-of-entry data
verification solution to know the contact really is who they say they are.
Cost Savings: 25% of bad data is due to
data-entry errors causing U.S. businesses to lose $600 billion a year. Bad data
should and can be stopped before it enters your database. Employ a data quality
firewall at the point-of-entry to immediately verify the accuracy of
information.
Campaign Intelligence: With a
geocoding solution you can get a more accurate view of your customers.
Geocoding assigns precise latitude and longitude coordinates to the addresses
in your database. This allows you to see where your customer lives and works in
order to define and analyze the needs of your target population.
Consolidated: Did you know that up to 8-10%
of records in a database are duplicates? Every business should aim to get rid
of duplicates and replace them with a golden record. A golden record is the
final step in record consolidation. Three common techniques that are used to
create a golden record are most recent, most frequent and most complete.
Complete: Completing the records in your
database by appending additional information that is missing. Inrease your
lead generation and revenue potential opportunities. Fill in missing emails,
addresses, and more to ensure you obtain a complete record.
Compliant: Maintaining quality data that
complies with internal and external regulations can be tricky but it is
essential. Poor data leads to poor decisions which undermine your customer
relationships and credibility.
After reading through the 7 C's, how would you rate your
business? Take the next step and upload your data for a complimentary data
quality audit from professionals at Melissa Data. It's fast and easy. Visit MelissaData.com/Score for your
free assessment.
By Natalia Crawford